Tapes Master 5" x 10ft - 1 Mil Copper Foil Tapes - Copper Conductive Adhesive Tapes For Guitar Cavity, EMI Shielding, Grounding, Gardening, Soldering Jewelry, Art Crafts
Tapes Master 5" x 10ft - 1 Mil Copper Foil Tapes - Copper Conductive Adhesive Tapes For Guitar Cavity, EMI Shielding, Grounding, Gardening, Soldering Jewelry, Art Crafts
Regular price
Sale price
$11.95 USD
Unit price
per
Sale
Sold out
Product CATE: COP303
Model No: COP303-3133
Promotions

Offer 1:
Free Standard Shipping on all orders. No coupon code is needed. (Domestic only) 

Offer 2:
15% off all orders - Minimum purchase of $100.  Coupon code: 20221
Enter this discount code at checkout.

Offer 3:
Summer Sale Special
$30 off all products - Minimum purchase $150 - Coupon Code: SPRING
Enter this discount code at checkout.
Shipping & Returns

Free Shipping on all orders. No Coupon Code Needed.
Strong Conductive Adhesion With Easy Release Liner For Efficient Processing
Tapes Master Copper Foil Tape is coated with conductive acrylic adhesive designed to bond to a broad range of substrates and other challenging surfaces; the tape adheres immediately upon contact with the surface.
Guitar Cavity EMI Shielding:
Tapes Master Copper Foil Tapes are ideal for EMI/RFI shielding and static discharge applications including guitar cavity, printed circuit board manufacture repair, and  anywhere if the static discharge is a concern; Eliminate the effect of EMI and avoid unnecessary current and voltage.
Great Idea for Indoor / Outdoor Uses:
An affordable and environmentally friendly way to wrap around the base of your plant in the garden; strong tape adhesive makes it very easy to apply in minutes.
Home DIY Creative Projects and Art Crafts:
Tapes Master copper foil tape is highly malleable and accepts solder; you can use it freely for your home DIY projects, soldering jewelry, stained glasses, candle makeover, wall decoration, art crafts, etc; Use your creativity to make something amazing.
Affordable, Flexible and Durable:
Waterproof, UV resistance, Flame-Retardant, Moisture Resistance, Chemical and Corrosion Resistance. Commonly used for reflecting, wrapping, masking, sealing, and more in applications from air ducts to washing machines.
Technical Specifications

Technical Data:


Color: Copper

Carrier: Copper Foil

Adhesive: Conductive Acrylic Adhesive

Carrier Thickness (mm): 0.025

Total Thickness (mm): 0.06 ± 0.005

Appearance: Excellent, no oxidation

Initial Tack(Steel Ball) (#): 11

Resistance(ohm/in2): <0.05

Holding Power(1kg/inch): ≥1140

180°Peeling Strength: >8 N/25.4mm

Application Temperature: -20~120℃

Storage Condition: 20℃, 65% RH
View full details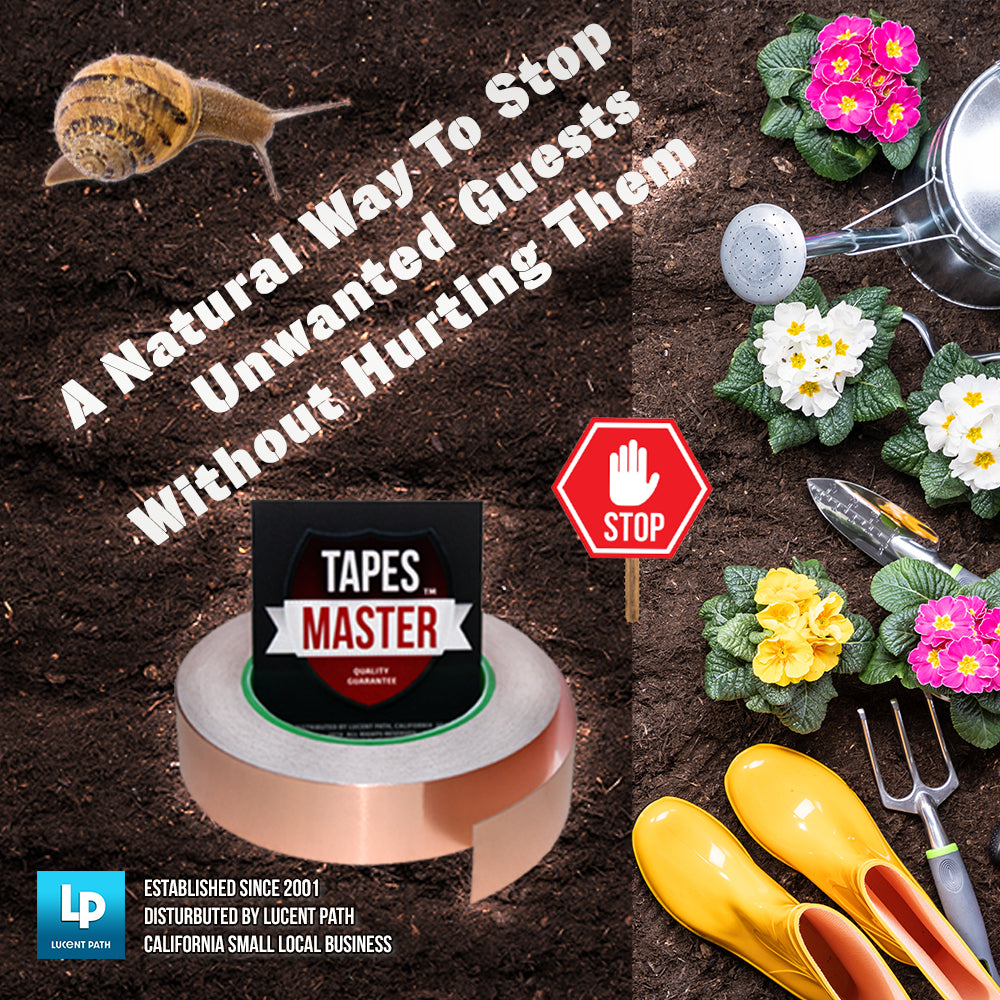 Spring Sale 25% OFF

Kapton Tapes Spring Sales
Limited Time Offer 25% Off
Entering Code: KPT25

Shop Now